Is the mods still not working? And if it does work, what have you done to make it work?
–Testing as of 4:50 PM–
Infinite HP - Working
Unlimited Items - Not Working
Easy Crafting - Not Working
Super Inventory Size - Working
One Hit Kills - Working
Instant Pod Return - Working
Walking Speed - Working
Jump Height - Working
Game Speed - Working
Hope to see the others fixed soon, Love the trainer and the game!
The Satisfactory cheats have been updated!
Changes:
Bug fixes and game compatibility improvements
All the cheats worked in the current version for me… I tried it with the new update coming out (7) and only unlimited health, speed and jumping worked for me… thought I didnt try game speed.
well ive tried this after the last update and non of the cheats work for me am i doing something wrong if you think so please let me know
yeah, they aren't working for me either but I think the game may have had a small patch that got put out that patched it. Maybe we'll see an update to the mod soon.
so i got this to work now they have done another update and now Unlimited Items
and Easy Craft no longer work great
Broken for me too, and those are the two I use the most!
I was playing Satisfactory (steam ver) through WeMod yesterday and all was good now today "Unlimited Items" and "Easy Craft" aren't working all other cheats work fine. Any one else have this issue?
Yep! Here's hoping they fix it soon. This game is literally my number one used on Wemod.
Hoping for a fix soon as well.
The Satisfactory cheats have been updated!
Changes:
Bug fixes and game compatibility improvements
"Unlimited Items" & "Easy Craft" are not working on the Early Access branch. Perhaps Experimental Branch is working…?
It seems to be working from my side. Did you check the History tab , maybe didn't get the update yet ?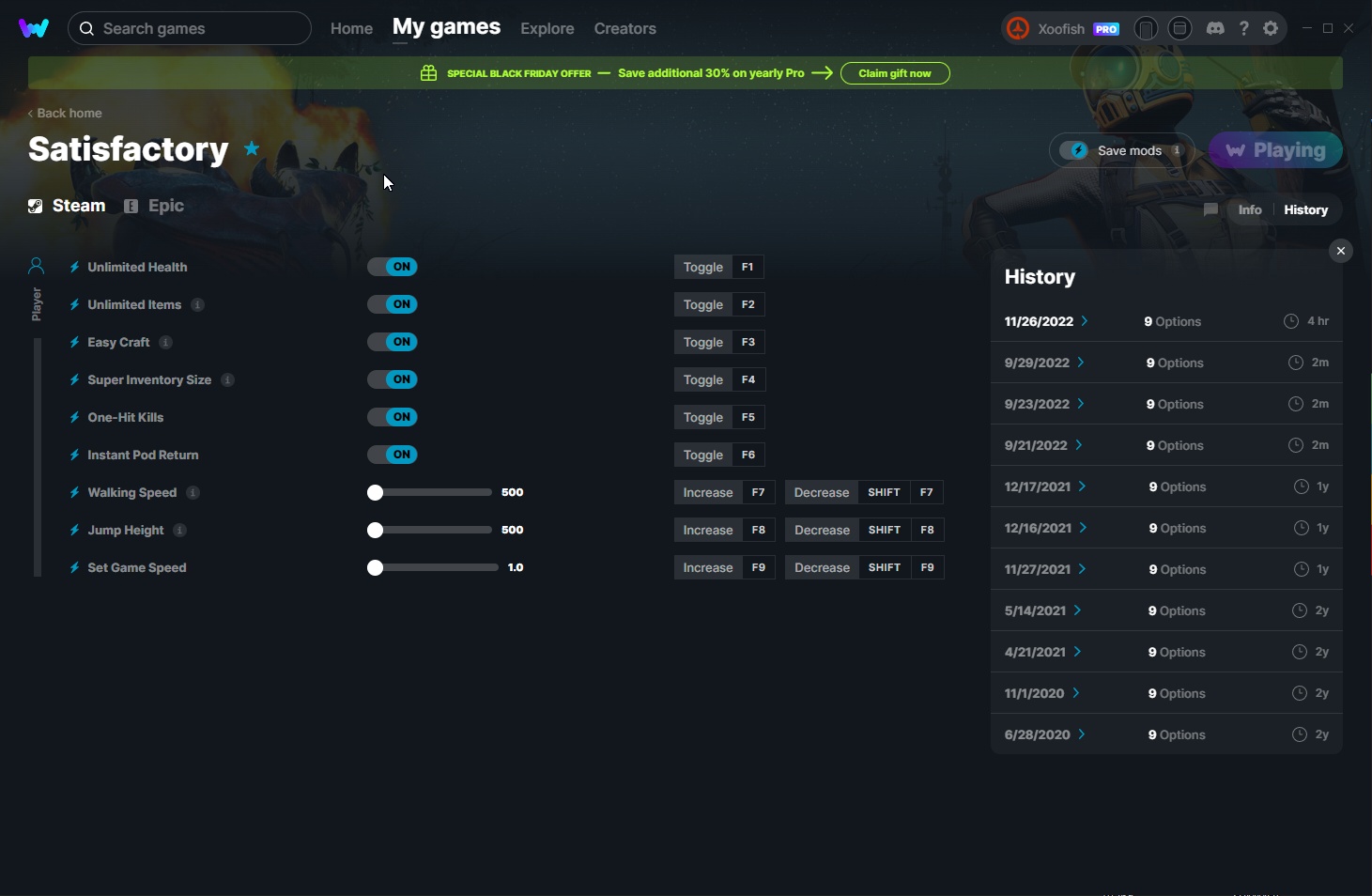 That's exactly correct! Thank you…
I checked the history and I am on the latest version but unlimited items, easy craft, super inv size, and instant pod return does not work.
got the email that the trainer updated and like demon lord said unlimited items easy craft inv size and pod return DO NOT work with the new update it works in the sense that it says you have everything you need but with easy craft it wont make anything or build anything it just says you can andd that your good to go but nothing happens
make sure you are not on the experimental server. it is working fine for me now.
As of today a new Satisfactory update was pushed and Unlimited Items cheat no longer works. When turning on it turns off