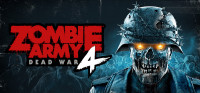 This is the official discussion topic of the Zombie Army 4 Dead War Trainer and Cheats in the WeMod app. Please post any suggestions, bug reports, or praise that you may have for the cheats in here!
---
Download:
Download the trainer and find it in the WeMod app.
---
Trainer Options and Cheats:
1. Unlimited Health
2. Unlimited Stamina
3. Unlimited Upgrade Kits
4. Unlimited Ammo/Grenades
5. Unlimited Mines
6. No Reload
7. No Powerup Cooldown
8. Easy Brain Buster
9. Easy Kills
10. +10K Score
11. +10 Special Ammo

---
Important Notes:
Click here to view important information about these cheats.

This trainer is for DX12. Launch the game from Epic and select DX12. Once the game has loaded alt-tab and click play in WeMod.
---
Screenshot:
---
Trainer Video:
---
Supported Game Versions:
We strive to keep our trainers up to date with the latest game versions. WeMod automatically detects which version you have installed and activates the mods accordingly. So there's no need to worry about which version of the game you have!
---
Updates and Changes:
02/04/2020
Started development

02/05/2020
Released trainer with 7 cheats

02/05/2020
Unlimited Upgrade Kits cheat added
No Powerup Cooldown cheat added
Easy Brain Buster cheat added
+10K Special Ammo cheat added

02/05/2020
+10 Special Ammo cheat added
Updated notes
---
Like what you see?