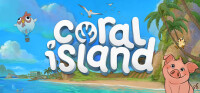 This is the official discussion topic of the
Coral Island Trainer and Cheats
in the
WeMod app
. Please post any suggestions, bug reports, or praise that you may have for the cheats in here!
Download the trainer or find it in the WeMod app.
---
Trainer Options and Cheats:
1. Unlimited HP
2. Unlimited Stamina
3. Item Never Decrease
4. Clone Item On Remove
5. Unlimited Watering
6. Unlimited Money
7. Unlimited Mastery Point
8. Edit Money
9. Multiply Relationship Point Get
10. Multiply Mastery EXP Gain
11. Level Up Animal Heart Daily
12. Instant Catch Fish
13. Fishing Line Never Break
14. Instant Kill
15. Freeze Bug Alertness
16. Ignore Lab Upgrade Materials
17. Ignore Tool Crafting Materials
18. Remove Gift Limit
19. Instant Cut Tree
20. ZA WARUDO! [Time Stop]
21. Add 1 Hour
22. Sub 1 Hour
23. Edit Day
24. Edit Month
25. Edit Year
26. Edit Season
27. Game Speed
28. Multiply Move Speed

---
Screenshot: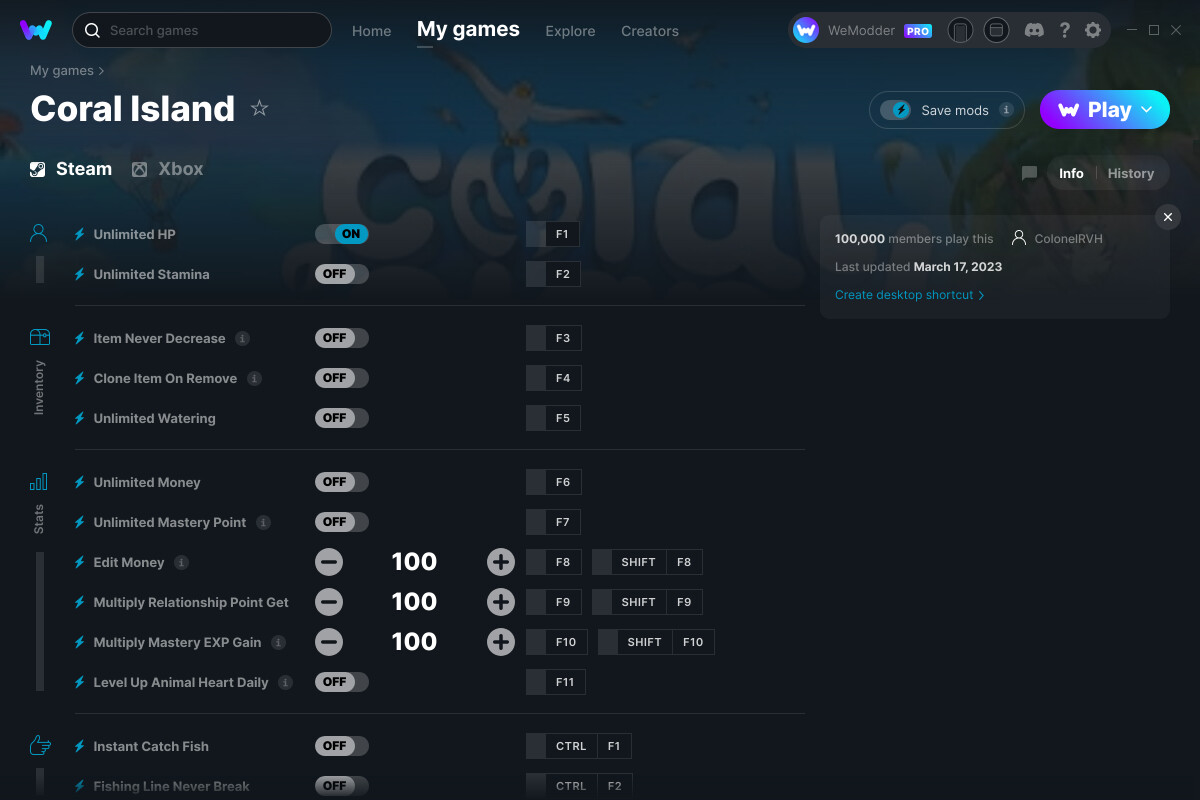 ---
Supported Game Versions:
We strive to keep our trainers up to date with the latest game versions. WeMod automatically detects which version you have installed and activates the mods accordingly. So there's no need to worry about which version of the game you have!
---
Updates and Changes:
10/12/2022
Started development

10/13/2022
Released trainer with 18 cheats

10/13/2022
Bug fixes and game compatibility improvements

10/15/2022
Unlimited Mastery Point cheat added
Multiply Relationship Point Get cheat added
Multiply Mastery EXP Gain cheat added
Remove Gift Limit cheat added

10/21/2022
Bug fixes and game compatibility improvements

11/03/2022
Level Up Animal Heart Daily cheat added
Instant Catch Fish cheat added
Fishing Line Never Break cheat added
0 Bug Alert cheat added

12/12/2022
Bug fixes and game compatibility improvements

03/16/2023
Freeze Bug Alertness cheat added
Ignore Lab Upgrade Materials cheat added
Ignore Tool Crafting Materials cheat added

03/17/2023
Bug fixes and game compatibility improvements
---
Like what you see?